About GIEPA
The Gambia Investment & Export Promotion Agency (GIEPA) is the national agency established by an Act of Parliament in July 2010 responsible for the promotion and facilitation of private sector investments into The Gambia.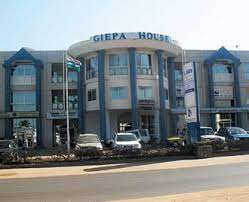 In offering investor–facilitation services, the Agency acts as investors' first point of contact, provides information on relevant procedures for setting up a business and helps form the necessary network of contacts in The Gambia for successful business operations.
GIEPA advises and collaborates with the Government of The Gambia, the private sector and civil society to further facilitate a globally competitive business environment in The Gambia. Key functions center on promoting the exportation of Gambian goods, developing and regulating The Gambia's  business park, formulating investment promotion, export and enterprise development strategies, employment creation and wealth generation through private sector led growth as enshrined in the National Vision 2020.
Mission Statement:
"To promote a conducive environment, attract investments, develop exports and support businesses with the overriding objective of contributing towards employment creation and wealth generation."
Vision Statement:
"A world class agency that promotes and facilitates private sector led growth."
The Vision For The Future
GIEPA will continue to serve as a key contributor to the economy and the Gambian people by bringing new levels of economic wealth, opportunities and jobs across a diverse range of industries. GIEPA's strategy for the future consists of a variety of projects including the following: 
Instigating Market Linkage Programs: Initiating a market linkage program, GIEPA will help exporters by better connecting businesses in The Gambia to global opportunities. 
Developing a One Stop Shop (OSS): GIEPA has set the foundations for becoming a globally recognized OSS Agency that will position The Gambia as an advantageous investment location. 
Performing Sector Reviews: GIEPA will undertake further sector analysis to better identify all business opportunities and any obstacles inhibiting sector growth. 
Pursuing Global Marketing: The Agency has set the foundation for performing a highly targeted and professional marketing and outreach effort to promote The Gambia and specific sectors. 
Supporting Micro, Small and Medium Enterprises (MSMEs): GIEPA aims to promote and support MSMEs that will create more jobs.