Strong Demand Outlook
The Gambia's Light Manufacturing demand prospects are robust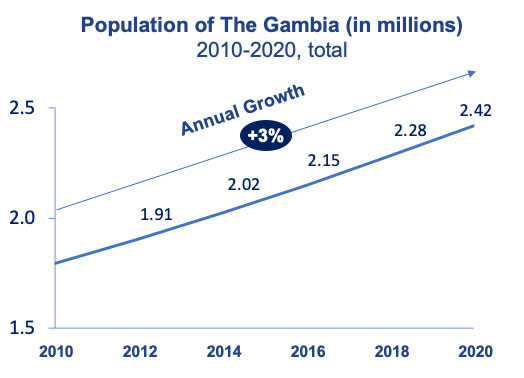 Strong Opportunity to Reduce Import Dependence
In 2019, The Gambia's total export of goods amounted to 1.573 billion dalasi (GMD), while its total import of goods stood at GMD 31.076 billion.
Ideal Location for Exports and Trade
Located on the Atlantic Ocean, The Gambia is an ideal hub for the greater West Africa.
The population growth of The Gambia has been on a steady upward trajectory, indicating a growing domestic market for labor and consumption of light manufactured goods. The Gambia is also seeking to reduce the amount of goods it imports and further increase its export capacity, for which it has an ideal port location in West Africa.
Source: World Bank, National Export Strategy 2021-2025