FIRST LADY VISITS THE GAMBIA – NIGERIA MSME EXHIBITION 2022
By Betty Gomez
The nine-day exhibition is nearing its climax as the First Lady of the Republic - Madam Fatoumatta Bah-Barrow on Sunday presided over a breast cancer awareness event meant to increase public attention to the month-long advocacy campaign commonly call Pink October. This year's event commemorated on the 15th of every other October was held at the national trade fair grounds and was also attended by the Chief Executive Officer of GIEPA - Ousainou Senghore, and his Nigerian counterpart - Dr Ezra Yakusak of the Nigerian Export Promotion Council (NEPC). Addressing exhibitors and participants committed to improving access, care, and treatment, the first lady thanked exhibitors for coming and staging products and services that are inherent to our cultural norms and values. She thanked women for multi-tasking to take care of their homes and businesses whilst urging Nigerians to invest more into the Gambia. GiEPA CEO challenged women entrepreneurs to embrace more sustainable strategies that will promote their growth and development. He further thanked critical partners like the GCCI, NEPC, the Nigerian High Commission in the Gambia, and the Small and Medium Enterprises Development Agency of Nigeria (SMEDAN) for their continued support towards regional enterprises. The day's long visit was punctuated with visits to stall of exhibitors.
More Topics
Teni the entertainer and her team has arrived at the Banjul International Airport to perform at the National Trade Fair Ground tomorrow night the 14th October 2022.
OFFICIAL OPENING CEREMONY OF THE GAMBIA-NIGERIA MSME EXHIBITION 2022 GCCI NATIONAL TRADE FAIR GROUNDS – BRUSUBI TURNTABLE FRIDAY 14TH OCTOBER 2022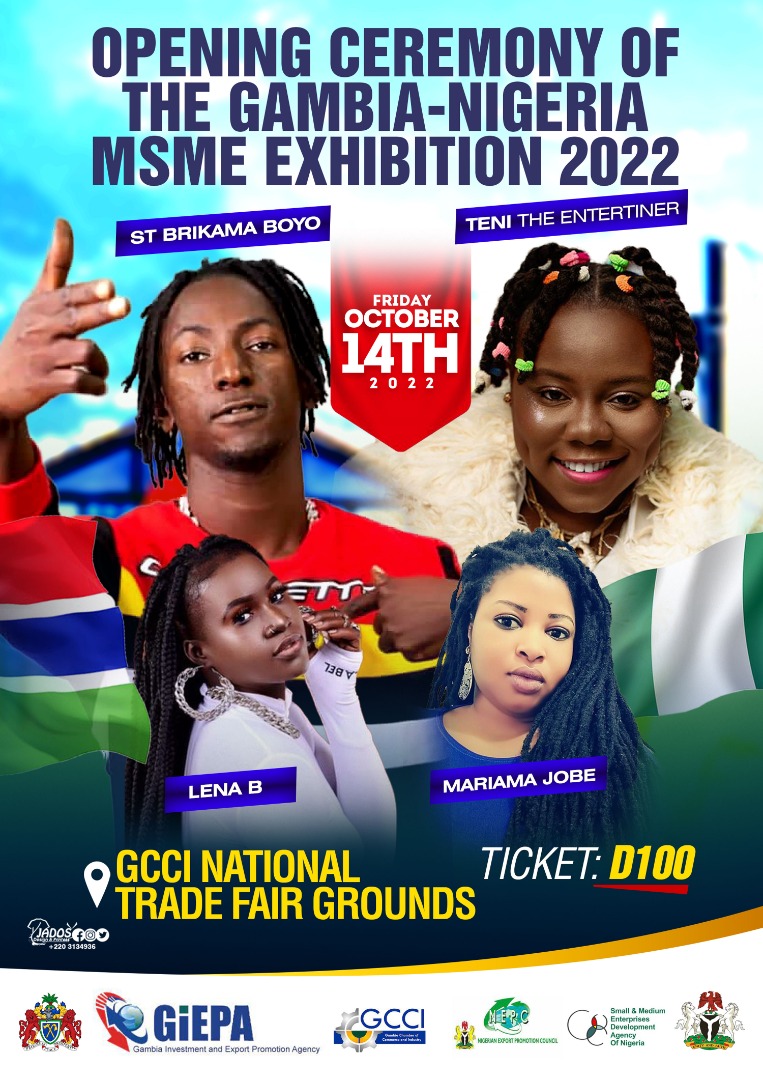 The much-awaited subregional pilot exhibition between The Gambia and Nigeria is set to begin on Wednesday 12th October 2022. So far, the Nigerian advance team has jetted into Banjul on Friday 7th October 2022, whilst the latest team of 32 Nigerian exhibitors and officials has arrived on Monday night. The...